Are you looking for a place to throw a fun birthday party, schedule a casual corporate event or host a fantasy draft? The Tailgater Tavern can help by providing you with 640 square feet of private meeting and event space inside our relaxed restaurant and bar. Whether you have a small group of people looking for a place to unwind or a larger group of friends celebrating a special occasion, our banquet room is the place to be. You will love the environment we've set up in our private event space.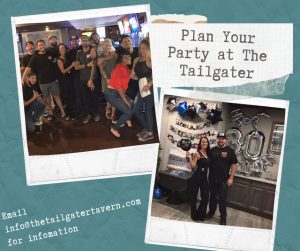 At The Tailgater Tavern, we have a full catering menu that is available for guests in our banquet room. You can pick and choose what you want to serve, and we'll set up a buffet for you and your guests. We offer a wide range of appetizers in addition to traditional bar fare, and would be happy to cook whatever you want for your event. The Tailgater Tavern also has a mobile bar stocked with everything you'll need to get the party started. We have more than 20 beers on tap at any given time, so you'll be sure to find something you love.
The Tailgater Tavern has earned a reputation for being a great place to watch a game, but our private party room offers people the opportunity to do more than just watch sports. We know you'll a blast when you come check us out.
To find out more about renting our banquet room, fill out the form here. You will be contacted by someone from The Tailgater Tavern within 48 hours.